Learn to Sell on Ebay to Make Extra Income
Learning to sell on ebay is fun and can become a profitable way to make an extra income. I think that some people shy away from selling on ebay because they think it is to difficult, but the truth is that it is not very complicated.
This page will help you with the basics of selling on ebay. This is an essential skill to learn because some of the ideas on this site are based on it. I have personally made a few thousand dollars selling part time on ebay in the past year and so can you!
Sign Up and Learn to Sell
The first thing that you need to do is sign up for paypal. Paypal is what you will use to receive payments from your online customers.
The second thing to do is sign up for an ebay account. This step is simple and it doesn't take long. Ebay will take you through the sign up process step by step.
Once you have signed up for your account you will be ready to sell your first item on ebay.
Ebay has a complete section that teaches you how to list your first item and how to complete your first sale. Here are some very helpful links that will get you well on your way to earning cash on ebay :
Things to Sell on Ebay
The hardest obstacle that most people run into is finding profitable items to sell. This use to be a problem for me as well until I started figuring out the " tricks of the trade ".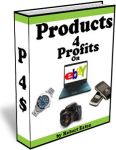 Download your FREE Copy of " Products 4 Profits On Ebay " and learn the " Tricks of The Trade " today ! This book will teach you step-by-step how to :
- Make Profit Using Craigslist.org
- Make Profit Buying Storage Lockers
- Make Profit Selling Event Tickets
- Make Profit With Consignment and More !
Here are several proven ways to get your hands on things to sell. Be sure to read these Pages if you haven't already downloaded " Products 4 Profits On Ebay ":
- Profitable Items to Sell Online
- Make Money With Craigslist Note: I have been very successful with this product obtaining technique!
I've supplied the resources that you need to be a successful ebayer, now it's up to you to jump into it and get your hands dirty! If you need any help or advice on selling on ebay you can contact me and I will gladly help. Good luck ebaying!



Return from Sell On Ebay to Generate Money Online
Return from Sell On Ebay to Good Extra Income Ideas Home