Buy and Sell Tickets Online
Here I will show you how to buy and sell tickets online. This extra income maker is very profitable and is quite amazing because it is simple and does not take much time. I have done this a few times and plan on doing it much more in the future.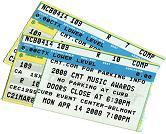 The Idea
Here's how it works. Most events have a presale which is a sale that is offered to a select group of people before the general public can purchase seats. The passwords for these presales are usually offered to fan club members of certain artists and to radio station club members. These passwords need to be obtained in order to sell tickets online successfully.Once you have these passwords, you use them to buy seats for well known sports events or concerts before the sale to the general public begins. This will almost always ensure that you get good seats, which results in a good profit. Then once you purchase the seats, you mark the price up and sell them online for a nice profit!
This is one of the best places to sell tickets online.
You will need to do your homework if you choose to sell tickets online. Use ebays "completed listings" to see what those seats sold for in the past, read through presale forums, and talk to other brokers through these forums. Try to get a feel for the popularity of the event, because if your event sells out and you bought some good seats you can sometimes make as much as $50 - $400 profit off of one pair of tickets!!
Finding Presale Passwords
First off, the best place to get passwords by far is presalepassword.net. At presalepassword.net, you can purchase several passwords for cheap. Some good chat forums for this are fatwallet.com and talktix.com. These websites are real good places to exchange password information and talk to others about events. Another good way to get passwords is to sign up with music and sports fan clubs. These clubs will usually email you the passwords since you are a member. Also, be sure to sign up with several different radio station fan clubs. Don't be afraid to Google "presale passwords" either; you can find a lot of good info this way!
Purchasing and Selling Your Tickets
Ok, so now you have passwords, but where do you use them? Believe it or not 90% of the passwords you will get, especially the ones from fatwallet, are used on ticketmaster.com. Go there on the time and date of the presale and enter the password. Be sure to set up an account first. Then all you have to do is purchase the passes!! If you don't like the seats that Ticketmaster issued you, you can try typing in the password over and over until you get better seats. Usually after 2-10 times you will score some good tickets to sell online.
Finally purchase the tickets, put up your ebay ad and by the time you receive the tickets, they are usually sold. Once they sale, ship them to your customer. That's it! They have awesome seats for the event and you made a nice profit. Not bad for making a $50-$400 dollar profit on ONE set of tickets. You're now ready to buy and sell tickets online!



Return from Sell Tickets Online to Generate Money Online