Learn How to Sell Information for Extra Income
Learning how to sell information can be a very profitable skill to learn.I have personally created and have sold information products online and have made some descent extra income doing so.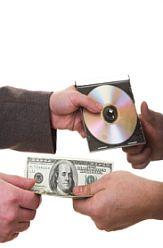 In this tutorial I will talk about:
- creating your own unique information .
- How to create an ebook and CD.
- How to sell information online for a good profit.

Write Some Unique Content
The first thing that you need to do is write some unique content and create an ebook out of it. Ask your self this when trying to come up with something to write about:
- How can I solve a problem or answer a question for someone?
- What subject do I know a lot about?
- Are you a professional in any field ? If so help others!
- Do I have any skills or talents that I can write about?
- Any hobbies that I can teach others about?
Figuring out what you want to write about is half the battle. It can be difficult to figure out, but once you have some good unique content , it is well worth it. Plus once you are done, you will never have to write it again!
Make your ebook
You will need to create an ebook or create a CD in order to sell your information online. Here is how you turn your writing into an ebook.
First you need to download a free software program called primo pdf. This is what you will use to tranfer your content into pdf form. For those who don't know , a pdf file is just a way of making your writing available for others to read and download. Here are the steps needed to create your ebook with primo pdf:
1. Write your content in Microsoft word or Open Office.
2. Click file "print". Once you click print , a window should pop up . Click where it says "name of printer" then select primo pdf
from the drop down menu.
3. At this point, a primo pdf screen will pop up. Select "open pdf" where it says post process. Be sure to select a file location such as documents or desktop. Finally click create pdf in the primo pdf pop up window, and that it . You should now have a pdf file (an ebook) sitting in the location that you chose.
Create a CD
In order to sell your information, you will need to burn it onto a CD. Here are the steps to burning your pdf file onto a CD:
1. Put a blank CD into your CD-R burner.
2. A screen should pop up. Click "burn files to CD"
3. Then a screen should come up where you can drag the the pdf file into drive E and your computer will then burn it onto the blank CD. Once it is done burning, go to file and then click "Close session" . You have to do this so that the CD will work on other peoples computers.
How to Sell Information for a Profit
There are several different ways to sell your information, but I will not go over all of them. The one technique that I have always used and have been successful at is selling on ebay. All you have to do here is place a "buy it now" auction on ebay and set a price for your product. It only costs .35 to put up an ad and a small final value fee. I suggest putting out several ads on ebay and always use different keywords that pertain to your information when listing a new ad, that way you get as much traffic to your ads as possible. Once you make a sale you just burn the CD and mail it. Its very simple and you can make as many copies as you want for cheap! Also future customers will start noticing all of your good feedback once you get it built up and this will help your sales immensely.
Have a question or idea to share about how to sell nformation?
Return from How to Sell Information to Generate Money Online
Return from How to Sell Information to Good Extra Income Ideas Home