Earn Some Camera Cash by Selling Photos Online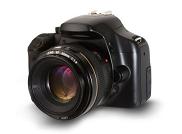 Another fun and simple idea is earning Camera Cash . I know you're probably thinking , what is camera cash?! I'm talking about taking photographs and selling them online for a part time income. People are doing it every day and are reaping the benefits ! These people are not professional photographers either, they are just average people with digital cameras and their making cash . Let me explain.
Build a Stockpile of Photographs
First you need to create some product to sell . This is as simple as taking some quality pictures with your digital camera. You can take pictures of all kinds of different things: buildings, people, money, animals, and pretty much anything else you can come up with .
The object is to take pictures of things that you think people want to use on there websites . Try to take pictures of things that are popular and always make sure that your photographs are clear . You are well on your way to earning some descent camera cash once you have at least 100-500 good photos to sell. The next thing you need to do is put them online and get them sold !
Where to Sell Your Photos
Stock photo companies is where all the money making happens. These companies offer website owners like myself an opportunity to purchase some unique pictures for our websites. Many people use these photos for web design as well. The pictures that they sell come from people like yourself that are looking to sell their photos.
All you have to do is sign up to sell your photos (it's free) and then upload your photos to the stock photo companies inventory. They will receive a percentage of the sale for every time one of your photos are sold and the rest of the profit will go to you. Each Photo is generally sold for $1.50 to as much as $18.00 per copy depending on the picture quality and size. You can sell as many copies of each photo as you want! Imagine what you could make with 500 or even 1000 photos!

The best thing about this idea is that you don't have to ship any products. All you have to do is create your product and then sell as many copies as possible. Hope this helps you on your way to financial freedom.
Here are some well known and trusted stock photo companies that can help you earn with your camera:
Don't Forget This FREE E-book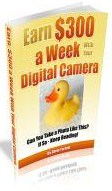 I have introduce the basic idea of selling photos for extra income on this page, but if you want to learn all of the aspects of creating and selling photographs online or if you just want a good reference guide, then I would recommend reading this e-book . It is packed full of great information and is very informative on this subject.
Return from Camera Cash to Generate Money Online
Return from Camera Cash to Good Extra Income Ideas Home